Berdiri di Kaki Sendiri: Upaya Membangun Keberdayaan Perempuan Single Parent di Batu Hampa Kabupaten Pesisir SelatanMembangun Keberdayaan Perempuan Single Parent di Batu Hampa Kabupaten Pesisir Selatan
Abstract
This article is to describe and analyze the aspirations and needs of single parent women in the context of empowerment through religious education and entrepreneurship and to analyze patterns of empowering entrepreneurial religious education that are relevant for single parents. This research was conducted by using  Participatory Action Research (PAR). The techniques include: transects, interviews and Focus Group Discussion (FGD). Factors that cause the low management and utilization  in Batu Hampa Village are: economic factors - limited capital, and intermediary factors that facilitate and allow the rooted inability of single parent women and Low Human Resources of single parent women.
Keywords
own feet, empowerment, single parent, hollow stoneown feet, empowerment and single parent
References
Ahmad Mahmudi, dkk., Penelitian Aksi Partisipatoris; Sebuah Pengantar, (Yogyakarta: SUSDEC, 2003)
Chambers, R, PRA, Participatory Rural Appraisal: Memahami Desa Secara Partisipatif, Terjm dari Rural Appraisal: Rapid, Relax and Participatory, Yogyakarta: Kanisius, 1996
____, Meode-metode Pintas dalam Mengumpulkan Informasi Sosial untuk Proyek-proyek Pembangunan Pedesaan, dalam M.M, Cernea, ed. Mengutamakan Manusia di dalam Pembangunan Pedesaan, Jakarta: UI Press, 1998
____, Pembangunan Desa: Mulai dari belakang, Terjm dari Rural Development Putting The Last first, Jakarta: LP3ES, 1987
Chudry, Azis, Education, Participatory Action Research an Social Change: International Perspective, New York: Palgrave Macmilan, 2009
Dewi, Perempuan 29 tahun, salah satu single parent, wawancara 06 Desember 2012
Faqih, Mansoer, Bebas dari Neolibralismei, Yogyakarta: Insist, 2010
____, Runtuhnya Teori Pembangunan dan Globalisasi, Yogyakarta: Insist, 2009
Freire, Paulo, Pedagogy of the Oppressed, New York: Praeger, 1986
____, Educational for Critiscal Counciusness, New York: Continum, 1981
George, Susan, Pangan Penindasan sampai ke Ketahanan Pangan, Yogyakarta: Insist, 2007
Mahmudi, Ahmad dkk, Penelitian Aksi Partisipatoris, sebuah Pengantar, Yogyakarta: SUSDEC, 2003
____, Kumpulan Materi Short coursh Metode Penelitian Participatory action Research, Institut Studi Islam Fahmina, Kementerian Agama Republik Indonesia dan INSIST Yogyakarta, 01 September-30 November 2012 di Cigugur Kabupaten kuningan jawa Barat
Malin Mudo, Saifu l laki-laki 43 tahun, Wali Nagari Batu Hampar, wawancara 10 September 2012. Data ini telah dicek kembali ketika melakukan mapping yang dilaksanakan pada tanggal 05 Desember 2012 kemudian diverifikasi berdasarkan data statistic dalam profil nagari
Marut, Don k, Riset Aksi Partisipatoris: Riset Pemberdayaan dan Pembebasan, Yogyakarta: Insits press, 2004
Mikkelsen, Britha, Meode Penelitian Partisipatoris dan Upaya Pemberdayaan: Panduan bagi Praktisi Lapangan, Jakarta: Yayasan Obor Indonesia, 2011
Profil Nagari Batu Hampa Kecamatan Koto XI Tarusan Kabupaten Pesisir Selatan Tahun 2012
Raharjo, Dawam, Pangan, Energi dan lingkungan hidup Perspektif Islam, Makalah Dipresentasikan dalam Symposium Nasional Islam transformative, Institut Studi Islam Fahmina, Cigugur, 23 September 2012
Suharto, Toto, Pendidikan Berbasis Masyarakat: Relasi Negara dan Masyarakat dalam Pendidikan, Yogyakarta: LKIS, 2012
Topatimasang, Roem, dkk, Pendidikan Populer: Membangun Kesadaran Kritis, Yogyakarta: Insist, 2010
____, Pemetaan sebagai Alat Pengorganisasian: Sejarah dan Politik sengketa Sumberdaya Alam dan Hak-hak Kawasan Masyarakat Adat di Mluku, dalam Ton Dietz, Pengakuan Hak atas sumber daya Alam: Kontur Geografi politik Lingkungan: Yogyakarta: Insist Press-REMDEC, 2000, Naskah asli makalah ini dalam bahasa inggris ditulis pertama kali sebagai makalah pada International Conference on Representing communities: History and politics of Community-Based Resource Management" Departement of Antropology, University of Georgia, Atlanta USA, 1-3 june 1997
Thorburn, Craig C, Ikhtisar singkat PRA: sebuah Polemik, Makalah Dipresentasikan dalam Lokakarya Nasional Perencanaan Proyek Capacity Building for Community Development, Jakarta: 14-15 Juni 1999
DOI:
http://dx.doi.org/10.15548/jk.v8i2.220
Refbacks
There are currently no refbacks.
Copyright © 2014 - Center for Gender and Child Studies (PSGA) - All rights reserved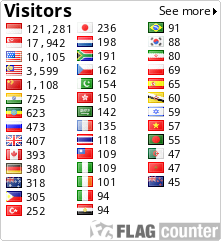 Kafa'ah: Journal of Gender Studies is licensed under a Creative Commons Attribution-ShareAlike 4.0 International License.